---
Album info
Album including Album cover
1

Queen of Darkness

04:36

2

The End of Me

04:45

3

Antidote

04:00

4

In Your Next Life

03:14

5

Happiness for a Moment

03:49

6

Mr. Bond

04:22

7

Pain

04:08

8

Beauty of the Night

04:02

9

Everybody Likes You

04:11

10

You Say You Love

04:14

Total Runtime

41:21
Info for Love Is Not a Weakness

Love Is Not A Weakness is a debut album, but by no means a first for Berlin-based musician and composer Susanne Folk. The German-American, whose last name is pronounced like the English "Folk", has been present for years in stylistically different formations such as Azolia, the Susanne Folk Trio & Celina Muza, Call Me Cleo, until 2012 also So Weiss, mostly on saxophone or clarinet. In Call Me Cleo she takes the role of the singer. The bands received a lot of positive feedback for their productions, tours led them through North America, China, African and European countries. With Love Is Not A Weakness Susanne Folk now presents herself for the first time as a singer/songwriter alone at the grand piano.
She has been familiar with the piano for a long time, she learned it in her childhood and has always composed pieces on it for her own groups as well as for others. At the same time, one can notice in her songs that Susanne Folk comes from the saxophone. She thinks mainly in melodies and somewhat less in harmonies and chords. For a long time it didn't occur to the studied jazz musician to record a solo album, although the idea had been maturing in her subconscious for a while.
At some point, however, "it seemed to have become an absolute necessity for me to go down this new path," says the singer-songwriter, "suddenly I had the feeling that something needed to be let out and that otherwise I would burst." While she still values the interaction with the musicians in her bands, at the same time Susanne Folk is also happy about her newfound independence. "Of course it was unusual to be alone with myself at first. I missed the direct feedback in the beginning."
But then came the first solo performances, at first via stream, then in front of live audiences and they were followed by positive reactions from many directions.
Susanne Folk creates music in the field of advanced pop, with selective references to sources of inspiration such as Amy Lee (Evanescence), Tori Amos and Rufus Wainwright. In some facets Folk reveals a penchant for gothic aesthetics, not a few chords refer to her experiences in jazz music. A certain melancholy pervades many of the tracks, carried by the singer's rather darkly colored vocal lines and expressive phrasing.
At times she dramatically elevates her voice, yet she knows how to dispense the amount of pathos so precisely that it comes across as haunting. "Probably some of the pieces convey a somewhat sad mood, but they are not gloomy, since (Folk finds) they usually carry hope." Mixed in with the ballads and mid-tempo pieces are a few faster songs. For example, "In Your Next Life" and "Pain", with rhythmic piano figures and partly accentuated spoken vocal phrasing, as well as a soulful rock character.
The majority of the pieces were written in the last two to three years, some are older, and all have references to events from the past. "I don't write at the moment of the event, but only after I have processed the situation. The composition of the song forms a kind of closure for me. So the feelings captured and described in the lyrics are real, but they happened a good while ago, and when I sing them, I reinterpret them."
Some themes prove to be unwaveringly relevant. "Everybody Likes You" revolves around things she learned at the beginning of her career, says Susanne Folk, namely what marketing strategies are suggested to young women in the music business and how they learn to set boundaries, to free themselves from the demands of others. A critical view of the whole friendship mania in the so-called social networks can also be discovered in this song. "Beauty Of The Night" aims in the same direction: "It's an encouragement to use your voice to take a stand, to express your own opinion. Instead of just being reduced to looks or wanting to be successful at any cost."
A more universal character is shown by "Antidote", which is especially close to Susanne Folk's heart as an appeal for acceptance and compassion. A key line of the song, "Love is not a weakness," advanced to become the album title. "Anger can be okay once in a while, but hate is never the answer," Folk says emphatically. "We are strong when we don't just think about ourselves, but when we help each other and when everyone has the same rights."
Other songs on the album revolve around more private themes. For example, "Happiness For A Moment," which raises questions about giving and receiving. Or "The End Of Me," which was written years ago during a stay in New York. "While the lyrics are about a breakup, I was in fact processing a completely different thing in them…." Thanks to her American father, Susanne Folk knows how to use the English language poetically. "It's important that the emotions are understood, beyond that I don't want to explain everything in detail, but still leave room for the listeners to interpret."
With her first solo album Susanne Folk makes a striking statement. Love Is Not A Weakness builds on the power of a charismatic voice, accompanied by the natural sounds of the grand piano. This combination, along with a resolute omission of electronic sounds, creates a special intimacy, in keeping with Folk's thoughtful lyrics. The result is a collection of timeless songs of great intensity.
Susanne Folk, vocals, piano
Recorded & mixed by Martin Offik
Mastered by Wolfgang Loos
at Traumton Studios, Berlin
Produced by Susanne Folk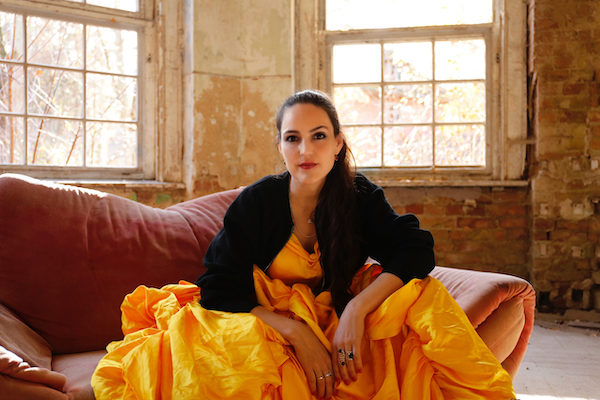 Susanne Folk
Musically, Susanne Folk moves on the terrain of advanced pop, with selective references to sources of inspiration such as Amy Lee (Evanescence), Tori Amos and Rufus Wainwright. In some facets, Folk reveals a penchant for gothic aesthetics, and quite a few chords refer to her jazz experiences. A certain melancholy pervades many of the tracks, promoted by the singer's rather darkly coloured vocal lines and expressive phrasing.
At times she soars to the heights with some drama, yet she knows how to dose the amount of pathos so precisely that it has a haunting effect. "Probably some pieces convey a somewhat sad mood, but they are not gloomy, because there is usually hope in them," Folk finds. Among the ballads and pieces in medium tempos, there are also a few faster songs. For example, "In Your Next Life" and "Pain", with rhythmic piano figures and partly accentuated spoken vocal phrasing as well as a rock-soul gesture.
With her first solo album, Susanne Folk sets a striking example. Love Is Not A Weakness builds on the power of a charismatic voice, accompanied by the natural sounds of the grand piano. This concentration, which goes hand in hand with a determined renunciation of electronic sounds, creates a special intimacy, fitting Folk's thoughtful lyrics. The result is a collection of timeless songs of great intensity.

This album contains no booklet.