---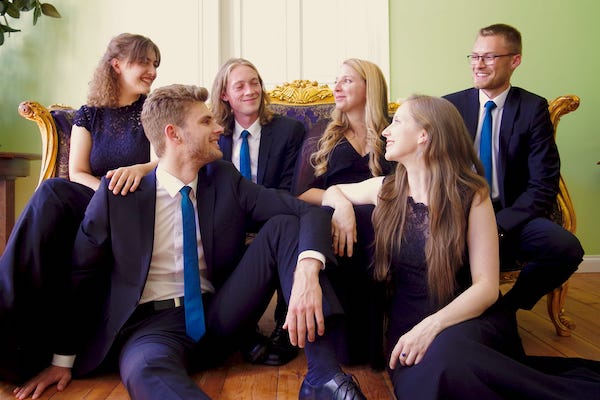 voicemade
Founded in 2017, the voicemade sextet immediately established itself as a highly regarded part of the a cappella scene among Leipzig's foremost vocal ensembles. The ensemble's repertoire spans the centuries, from sacred Renaissance and Baroque motets through the works of Romantic and forgotten composers to world premiere recordings of New Music.
The ensemble places a strong focus on works from the 20 th and 21 st century in its engaging concert programming that is very popular with audiences, concert promoters and the media alike. Secular works from all periods of music history as well as exhilarating arrangements of well-known songs from the pop-jazz genre round off the ensemble's wide range of programming.
voicemade – Lili Hein, Johanna Jäger, Ebba Lejonclou, Johann Jakob Winter, Friedemann Meinhardt and Vincent Berger – are six young singers who are enthusiastic about vocal music. The three men in the group already know each other from singing together in the Leipzig Thomanerchor. The three female singers come from the Leipzig choir scene and attended the University of Music and Theatre "Felix Mendelssohn Bartholdy" Leipzig. The paths of the ensemble members are as varied in "real life" as their backgrounds, ranging from concert singing and school music through economics and international relations all the way to nursing.
Performing over 25 concerts a year in Germany and other European countries, the vocal sextet voicemade is a popular guest at well-known concert series and music festivals. In addition, the ensemble has an extensive discography of video productions and a recording with German broadcaster WDR from December 2021. voicemade now presents its debut album Über Glaube – Ein Portrait.