---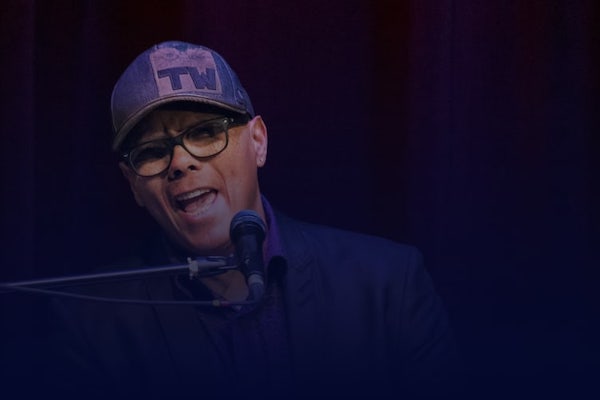 Ivan Neville
(born August 19, 1959) is a singer, songwriter, organist, pianist, and occasional guitarist. He has played with an assortment of bands from the Rolling Stones to the Neville Brothers. His songs have appeared in several movies, and he is known for his passionate, soulful vocals and funky keyboard playing. Neville's strengths are his range of musical styles, his ability to create a flexible groove, and a voice capable of both sweet harmonies and down-home raspiness. Currently he leads the band Dumpstaphunk: it is considered the premiere funk band on the contemporary New Orleans music scene and combines the layered harmonies of Sly and the Family Stone, the politics of Funkadelic, the party groove of the Ohio Players, and the hometown funk of the Meters.
Ivan is the son of iconic singer Aaron Neville and the remaining Neville brothers are his uncles (Art, Charles, and Cyril); the legendary Big Chief Jolly (George Landry) of the Wild Tchoupitoulas was his great uncle. He grew up in the 13th Ward of New Orleans on Valence Street, the famed thoroughfare where all the Nevilles grew up. His father and Uncle Cyril first taught him how to play and exposed him to the music of the day. Neville's first gigs came when he was in his teens sitting in with his father and Big Chief Jolly. He also played clavinet with the first incarnations of the Neville Brothers. Neville formed his first band, The Renegades, in 1977.
He played with the Neville Brothers band until 1981 when he left New Orleans to record Seal In Red with Rufus in Los Angeles. He then joined Bonnie Raitt as a session musician for her Nine Lives album and stayed with Raitt for five ears as her keyboard player. In this period, he recorded with the Rolling Stones (Dirty Work), Don Henley, and Robbie Robertson, then became part Keith Richards' band, The X-Pensive Winos, and Keith Richards, with whom he toured and recorded Talk Is Cheap.
Neville's first solo project was the album, If My Ancestors Could See Me Now (1988). The single "Not Just Another Girl" was a top 40 hit while the second single, "Falling Out of Love," appeared on the soundtrack of the film Skin Deep; "Why Can't I Fall In Love" appeared in crucial scenes in the movie Pump Up the Volume. He also joined the Spin Doctors for an album and worked with Delbert McClinton, Soul Asylum, and Paula Abdul.
After a long struggle with alcohol, Neville got sober in 1998 and began to focus on his solo career. He put out several acclaimed records including Saturday Morning Music (2002) and solidified his reputation as one of the nation's most dynamic background vocalists and keyboard players.
The latest chapter in Neville's career began with a solo turn at the New Orleans Jazz and Heritage Festival (Jazzfest) in 2003. He called upon some of his veteran musical compadres to fill out the band: Raymond Weber on drums, Nick Daniels on bass/vocals, Tony Hall on bass/guitar/vocals, and cousin Ian Neville on guitar to fill out the band. After a follow-up local tour, the band dubbed itself Dumpstaphunk: the funk is grounded in two basses, Neville's organ and clavinet chords, rhythm guitar, while three-part vocal harmonies hold high above the instruments. , was successful enough that they started playing around New Orleans and assorted festivals. Dumpstaphunk has released three records, Listen Hear (2007), Everybody Want Sum (2011), and Dirty Word (2013). Dumpstaphunk has played the last several Jazzfests and now has a prestigious standing gig on the last Sunday night at Tipitina's to close out New Orleans' festival season.
Neville contributes to many causes and plays countless local benefits. Dumpstaphunk appeared on the tribute to Fats Domino (Going Home, 2008) that aided victims of Hurricane Katrina and played on the Headcount Participation Tour for voter registration. Neville sang a passionate and angry cover version of "Fortunate Son" on the New Orleans Social Club album (2006). Neville has also recently on albums by Jerry Lee Lewis, Dr. John, Ani Difranco, Galactic, and Trombone Shorty (Troy Andrews).